Description
James Christensen Faith Hope And Charity Canvas Is a Limited Edition production by the Artist. Comes with a Certificate of Authenticity which affirms that this Art Work is an authentic Limited Edition production from James Christensen. This Limited Edition is Signed and Numbered by the artist. Limited to 100. Dimensions: 53 x 40. Hand Signed by James Christensen. Includes Certificate Of Authenticity
About the Artist – 
The artwork of James Christensen artwork is inspired by amazing and wondrous tales of imagination. Applying his eye for the fantastic to people, landscapes and creatures (both real and imagined), Christensen has created a rich and strangely familiar world, rendered with exquisite skill and detail.
Painting in a variety of styles, from the lush Saints and Angels series reminiscent of European old master works, like "Madonna and Two Angels", to his whimsical and humorous works of satire like "Resistance Training", Christensen artwork appeals to a broad range of collectors.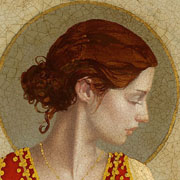 "My aim," says Christensen, "always begins with a desire to connect with another imagination." He adds, "My work is an invitation to let your imagination run wild, explore, and make interpretations spontaneously."
James Christensen was born in Culver City, California. He grew up two blocks from the MGM studio; he and his friends often played in the back lot of the studio in Tarzan's pond or on sets for movies such as Gone With the Wind. James loved to tell stories and use his imagination in play and drawing.
To learn more about the artist, please visit James Christensen Art